AXEGAZ Stations
Axègaz LNG stations: turnkey and tailor-made solutions.
Axègaz is currently constructing a network of public LNG/CNG gas stations located in the center of important logistics zones, near large urban centers and along major transportation routes.
For ground-breaking haulers who cannot wait for a public station to open, AXÈGAZ can first set up a LNG Box.
Public LNG/CNG stations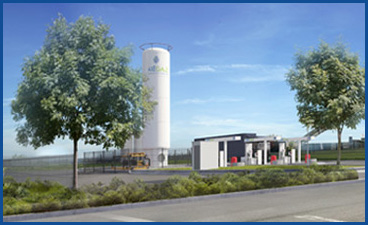 The preferred solution: with some 30 public gas stations planned nationwide in 2016-17, Axègaz will establish itself in well-known logistics bases or in urban development zones located near major roads. Thus you can combine your requirements with other haulers or clients and profit from a large-capacity gas station offering both LNG and CNG distribution. Payment by card, with a discount from the price to the public, will take into account your volume of consumption.
The LNG Box
Winner of the « Transportation Facilities» innovation award at the SITL Next Generation 2016 trade-show, the LNG box station is a concrete solution to the problem: freight carriers will not order LNG trucks in the absence of LNG stations, while LNG distributors will not invest in LNG stations without being assured of serving a critical mass of LNG vehicles on each site.

AXÈGAZ is breaking the deadlock with this solution that is up and running in just 3 months.

Compact and mobile, the LNG Box is a turnkey system with a 20 m3 storage capacity and a gas meter that is MID-approved and complies with French regulations.