Economic advantages

To this day, natural gas remains the most effective, competitive source of energy, over other sources of energy such as coal, heavy fuel oil, heating oil / gas oil, LPG (butane and propane) and wood.


Low prices

Not only is the price of natural gas lower than other sources of energy, but it is also much less variable, which makes it easier for companies and households to balance their budgets.
Sources :
French Ministry of the Environment, Sustainable Development and Energy, Commissioner-General for Sustainable Development (CGDD, Commissariat Général au Développement Durable), Service de l'Observation et des Statistiques Platts
Your budget under control
For full transparency, the price of LNG is indexed to published international reference prices.
In addition, for better cost predictability, Axegaz T&T can offer you a fixed price for LNG for a period of up to 3 years, based on your current and future needs. This option allows you to know your energy bill ahead of time without concern for market price variations.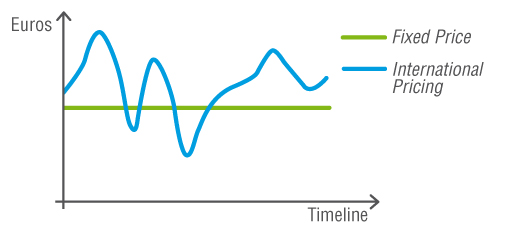 High performance
Not only is natural gas economically stable and attractive, it also makes for energy savings. Equipment that runs on natural gas boasts better performance than equipment running on other fuels like heating oil or coal. For instance, condensing boilers that allow for fume heat recovery are almost always powered by natural gas.
Furthermore, Axegaz T&T guarantees you can control your consumption by billing its LNG based on the actually delivered energy content (measured and certified). Your LNG needs can be assessed from your current consumption of other fuels, using the online calculator :