LNG installation

The Axegaz T&T Liquefied Natural Gas (LNG) facilities rely on a simple principle: cryogenic technology. The installation on customer premises (called 'LNG satellite' or 'LNG station') is made of one or more tanks and a vaporization system.
Whether it is for industrial gas (oxygen, nitrogen, carbon dioxide) or natural gas, the function of a cryogenic tank is to keep the gas in a liquid state by maintaining it at a sufficiently low temperature (-160 °C for LNG): this is the principle behind the thermos bottle, applied to an industrial product.
In order to keep thermal losses to a minimum and to avoid any warming of the product, the tank is equipped with a double wall :
the internal wall, in contact with the product, is made of stainless steel
the exterior wall is made of carbon steel
between the two lies a perlite-injected vacuum. Perlite is an insulating material with high thermal resistance.
Thanks to cryogenic technology, natural gas is kept in a liquid state (LNG) during shipping and storage at customers' premises until it is used.
If natural gas is to be used in the gaseous phase, LNG needs to go through a vaporizer where it is heated up and turned from liquid to gas before it is taken to its point of use.
When LNG is used as fuel for vehicles, LNG facilities are equipped with pumps to fill the tanks of vehicles.
Axegaz T&T team has a long experience in this technology and a pionner in France and other European countries to provide access to LNG to final customers.
Storage tanks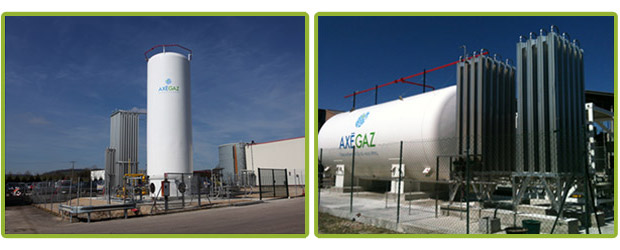 In order to meet customers' expectations in terms of available power and autonomy, Axegaz T&T proposes a range of large capacity vertical and horizontal tanks that are :


Owned by or on long term lease to customers
Compliant with European design and construction standards
Able to deliver the required flow and pressure
Repaired and maintained by Axegaz T&T in accordance with regulations
Equipped with a remote control system for optimal functioning and scheduling of deliveries
Vaporization system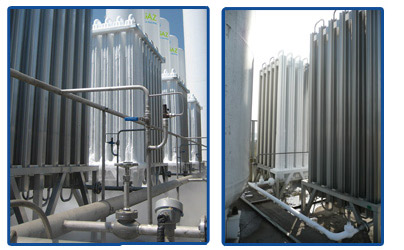 Placed next to the storage tank, the vaporization system is a key element of the cryogenic installation, necessary for the gasification of the product.
It is made of several vaporizers. Their number, their size and operating method (ambient heat exchanger in most cases, or using hot water or steam for very high power applications) are a function of the flow and pressure required for your facilities.
Axegaz T&T offers the right equipment, optimally design to meet your current and future needs.